From the Mayor's Proclamation of "Big Calusa Week," through our kick-off at Millennial Brewing, our week-long clean-up efforts with KLCB (in nine different locations!), to our Wednesday Culture Night at Sydney & Berne, through to our Big Calusa Day outside on the beach, to our Awards Ceremony at Edison Ford, to our Member dinner at Pinchers with keynote speech by Chauncey Goss, it was a tremendous week for the cause of Clean Water, reminding all why we need to preserve, restore, commemorate and celebrate our precious waterways.

So many people helped us realize the Big Calusa week, from partner organizations, to our many sponsors, our volunteers, City and County elected officials, our Calusa Waterkeeper Rangers, Board Members, our advocate-in-chief and "Waterkeeper" John Cassani, and the public who attended so many of our events. With your help, we were able to pull off an ambitious week of activities and bring enjoyment and satisfaction to so many fellow members of our community.

We are deeply grateful for your support.

Respectfully,
KC Schulberg
Executive Director
Calusa Waterkeeper
Celebrating Earth Day All Week Long!
The Big Calusa was a full week of celebration, awareness and stewardship to our local waterways. It all culminated in a full day of recreation on Saturday, April 27th to include kayak & paddleboard races, sailboat rides, fossil hunting and mermaid tales, along with fishing and boating safety workshops, master naturalist ecotours, and so much more, set on the beautiful Caloosahatchee at North Shore Park.
Video produced by Cat Chase Media
A Big Thanks to our Big Calusa Sponsors:

Tell us what you thought about The Big Calusa in a short survey!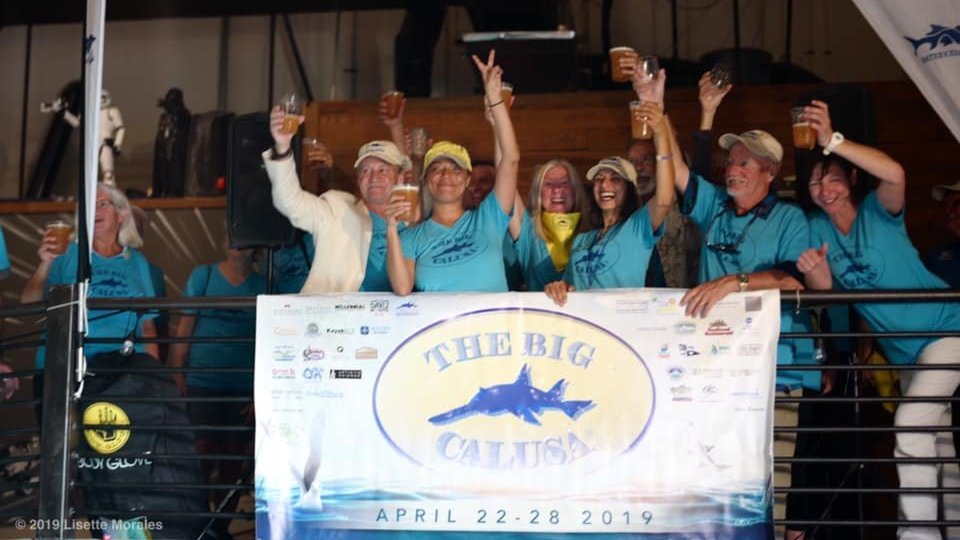 Big Calusa Week kicked-off with live music, food trucks, a signature "Big Calusa" micro-brew and official Big Calusa merchandise at Millenial Brewing.
Photos: Lisette Morales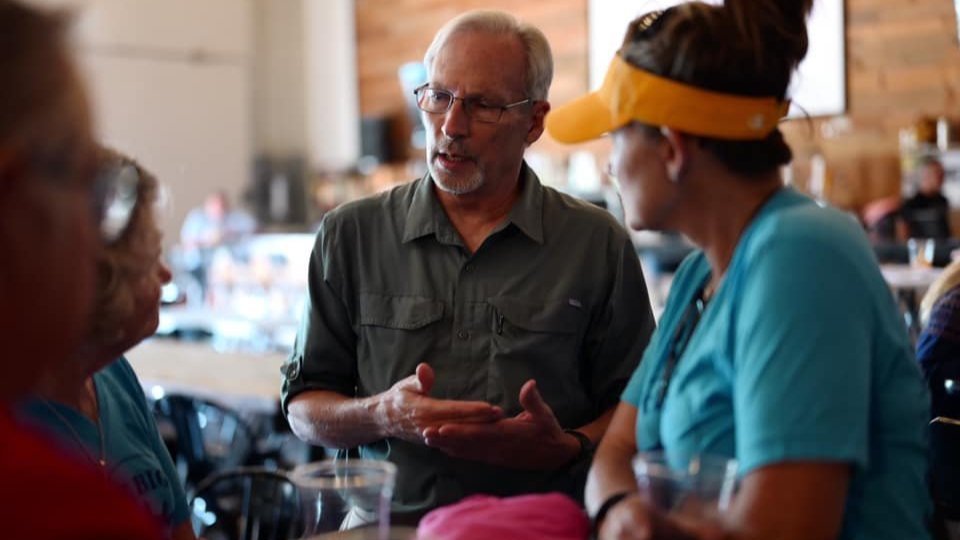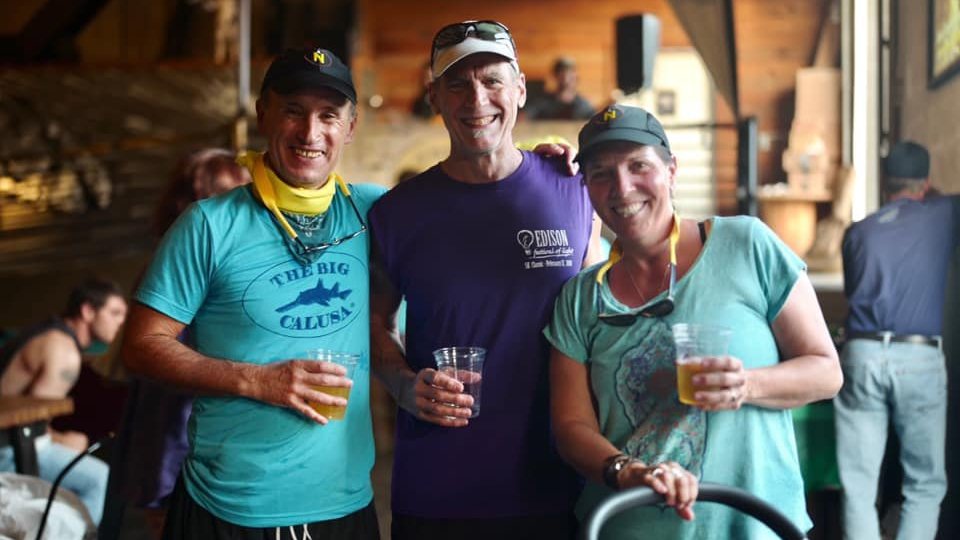 The Sydney & Berne Davis Art Center, in downtown Fort Myers hosted the Calusa Culture Night which featured story-telling from local icons including Bill Hammond, Cindy Bear, Woody Hanson, Ralph Woodring, Amy Bennett Williams, "Waterkeeper" John Cassani and the Zepeda brothers from the Seminole Tribe of Florida plus exclusive artwork by Myra Roberts and Paul Arsenault with music by Roots 2 Vines.
Photos: Lisette Morales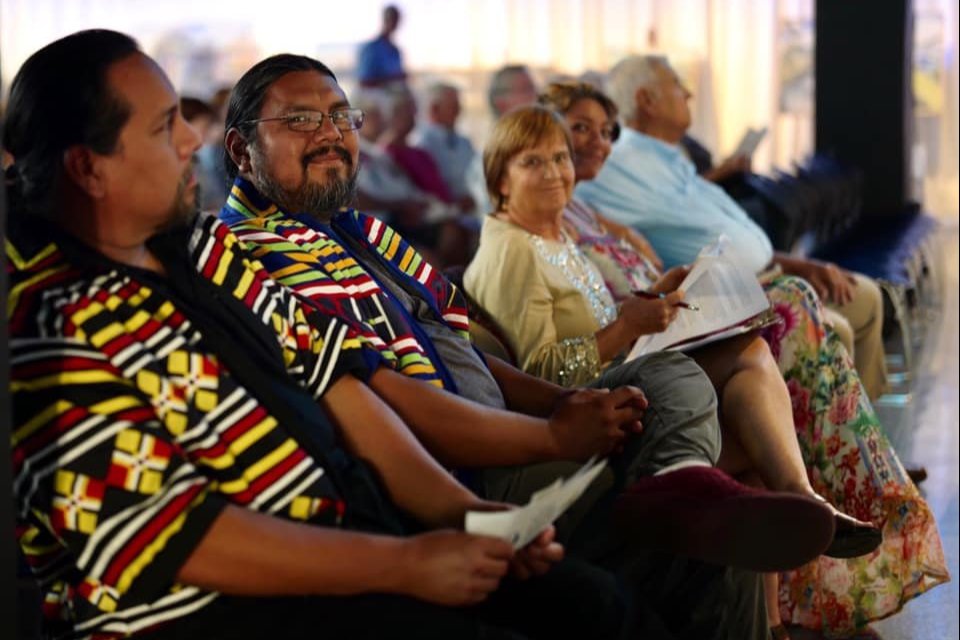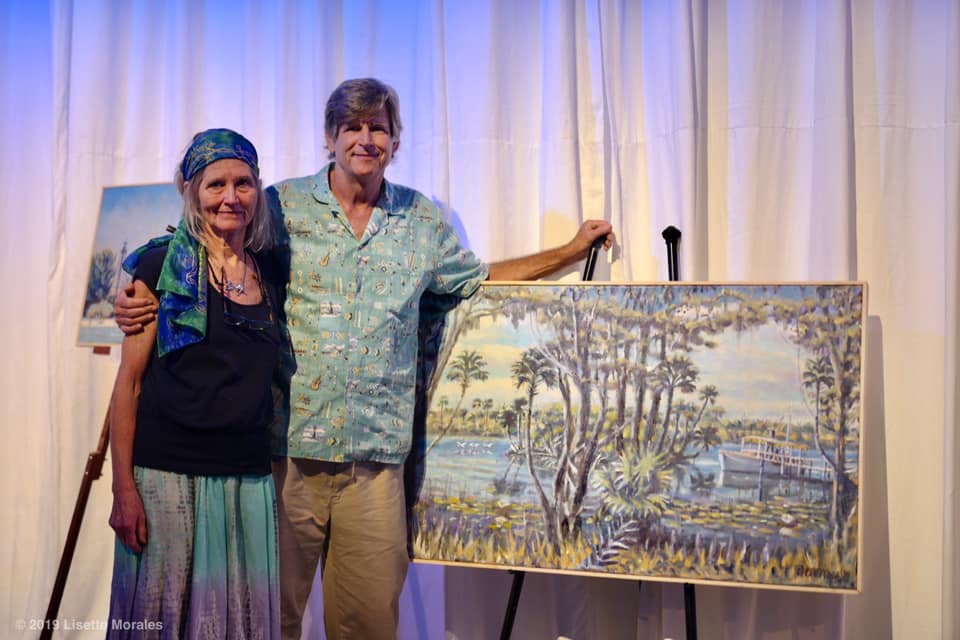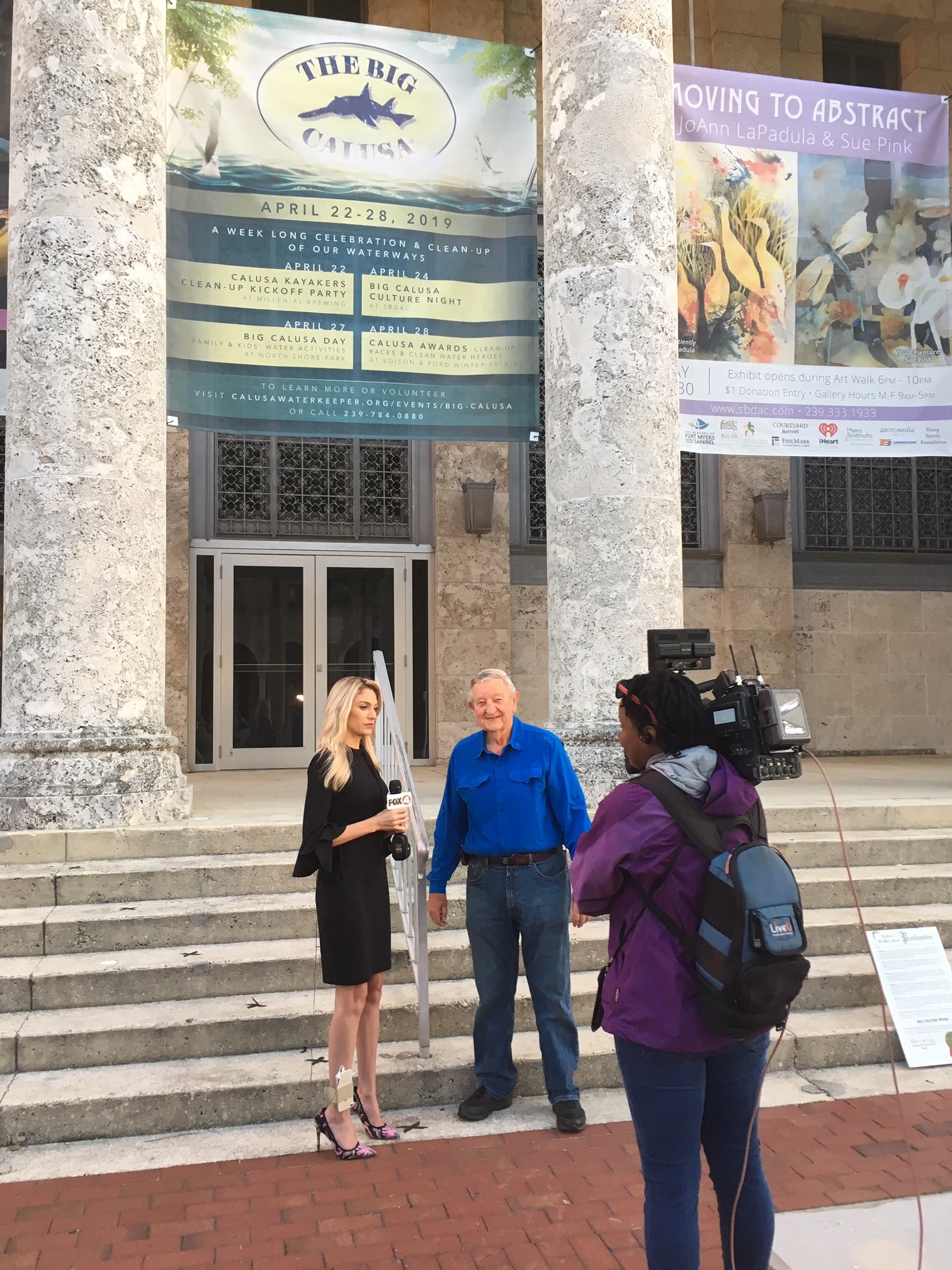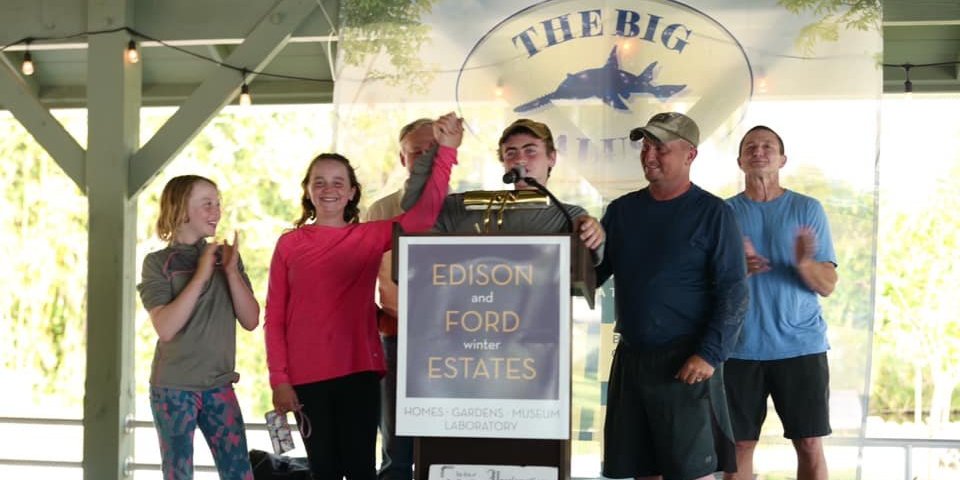 Calusa clean-up champions, race-winners and local clean water heroes were honored at an awards banquet at the Edison and Ford Winter Estates. Our annual member dinner followed at Pinchers Restaurant in Fort Myers.
Photos: Lisette Morales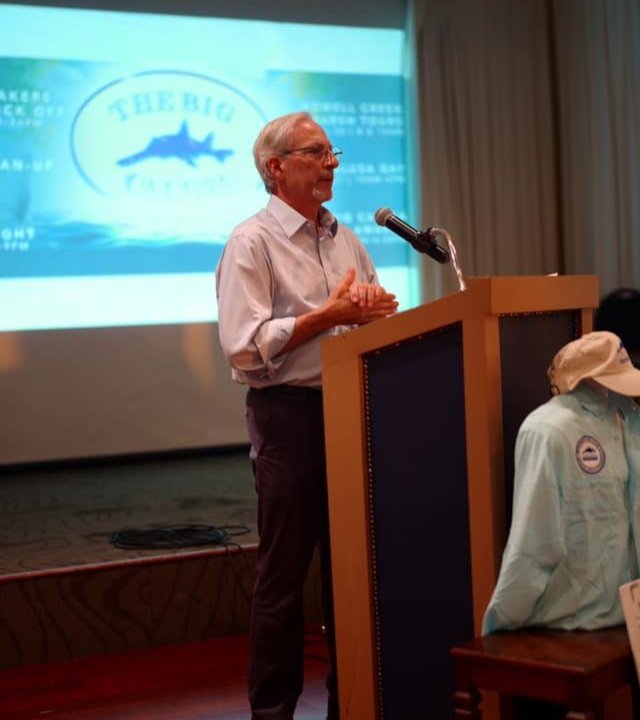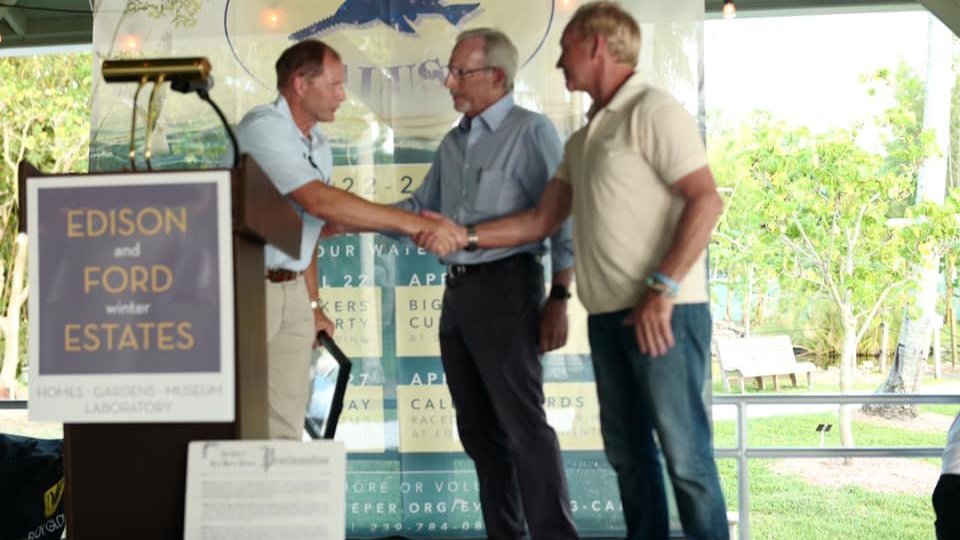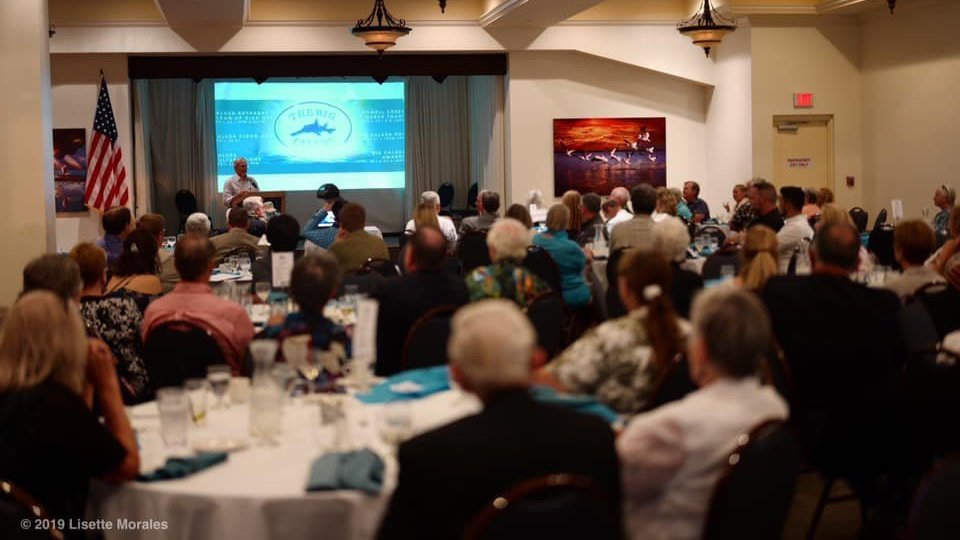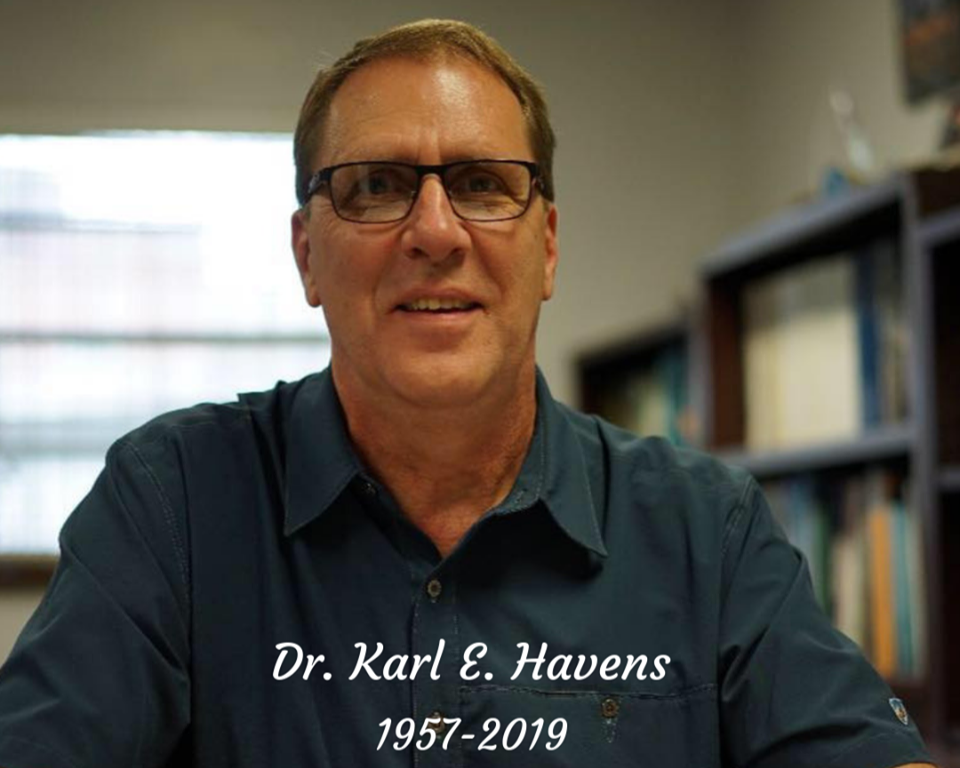 Farewell to a Highly-Respected Scientist & Water Quality Expert: Dr. Karl E. Havens
What a loss on so many levels. Professor Karl Havens was the go-to expert on issues of cyanobacteria and water quality for Calusa Waterkeeper and so many other groups throughout Florida. Karl was the chief environmental scientist at SFWMD back in the 90's and early 2000's. He led the development of much of the scientific foundation for many of south Florida's restoration plans and projects during those years. He then continued as a science leader at University of Florida. Karl always openly, honestly, and sincerely shared his expertise and wisdom with all who sought answers to the complex questions of life in Florida waters. As an educator, he worked to ensure such knowledge and commitment to ecological stewardship continues through future generations. A life well lived. - John Capece, CWK Member & Co-founder
Waterway Advocacy & Outreach
New Water Crisis in SWFL: Fecal Bacteria Contamination
John Cassani, Calusa Waterkeeper said the test results made public by the FDEP are alarming. What's unusual though about this list is the type of water bodies that are being impaired. And what's important about that is that many of these, in-fact all of the Estero Bay tributaries are what we call outstanding Florida waters. They're designated for special protection because of their high value and high water quality."
Expert Comments for Lake O's System Operations Manual
A very rare opportunity was awarded to concerned parties & citizens of South Florida when the Army Corps of Engineers accepted public comments regarding an upcoming revision to the Lake Okeechobee System Operations Manual. The Center for Biological Diversity joined forces with Calusa Waterkeeper, Sierra Club, Bullsugar and Save the Manatee Club to submit scoping comments for the ACOE's review. Read Scoping Comments
SAVE THE DATE: Calusa Waterkeeper Public Health Town Halls
Monday, June 24th & Monday, August 5th | 6 - 9pm
Broadway Palm Dinner Theater, Fort Myers
Mark your calendars and plan to join us for an evening of water quality discussion with local experts and friends of our waterways and communities.
Calusa Waterkeeper In The Press
Governor Ron DeSantis will attend U.S. Rep. Francis Rooney's multi-agency roundtable on harmful algal blooms at FGCU. DeSantis will then join Rooney and officials at a press conference following the meeting. Rooney's decision to keep the gathering closed to citizens and the media has been controversial. Continue Reading
Researchers at Florida Atlantic University presented results of a study to Lee County Board of Commissioners to show the sources of bacteria polluting the Caloosahatchee River.
John Cassani with Calusa Waterkeeper says some of the septic tanks in question could be up to 60 years old.
Continue Reading
Five conservation groups: The Center for Biological Diversity, Calusa Waterkeeper, Bullsugar, Save the Manatee Club and the Sierra Club urged the Army Corps of Engineers to expedite efforts to curb releases of toxic, nutrient-rich waters from Lake Okeechobee that drive catastrophic algal blooms during the LOSOM comment process. Continue Reading
Kayakers set out to pick up more trash in our water to wrap up the Calusa Clean-Up of our Waterways this weekend. Gulf Coast Kayak , Matlacha Civic Association and Adventures for Change hosted a shoreline cleanup. The group met Sunday at Gulf Coast Kayak and set out to pick up trash in the Matlacha Pass Aquatic Preserve.
Continue Reading
WJCT Public Media celebrated Earth Day at Southwest Florida Community Foundation's Collaboratory with many environmental advocates including John Cassani from Calusa Waterkeeper, Captains for Clean Water, Conservancy of Southwest Florida and many more. Continue Reading
Calusa Waterkeeper is kicking off the Big Calusa, a week-long cleanup effort of local waterways. The organization is urging people to use the hashtag #calusacleanup and post pictures of the refuse they collect. Those who pick up the most trash will win awards.
Continue Reading
CALUSA WATERKEEPER MISSION
To Protect and Restore the Caloosahatchee River from Lake Okeechobee to the Coastal Waters.
Calusa Waterkeeper
PO Box 1165
Fort Myers, FL 33902