It is not too late to make your voice heard.
Support the Safe Waterways Act.
Senate Bill 604 and House Bill 393, termed the Safe Waterways Act, that would require county health departments to post and maintain warning signs at all public bathing places that have been verified impaired for fecal bacteria are now being considered at the 2022 Florida Legislative Session which began on January 11, 2022 and is scheduled to run through March 11, 2022. It is not too late to contact your representatives to let them know that you support this important public health policy. "It's time for Florida to become a responsible steward of the public trust by allowing all Floridians the right to know if our waters are safe," said Calusa Waterkeeper, John Cassani. Please help us protect and restore water quality and promote public health.
Words from the Waterkeeper - Episode 31
In case you missed it, in the last Words from the Waterkeeper for 2021, Calusa Waterkeeper John Cassani spoke with friends Dr. Win Everham, an ecology professor at Florida Gulf Coast University, and Calusa Waterkeeper Board President, Jim Watkins. They discussed water quality in the area, upcoming events, and support for the Safe Waterways Act.
And a big THANK YOU to all those that have supported Calusa Waterkeeper and our mission to fight for drinkable, fishable, swimmable waters in 2021.
'Look at the Water for Evidence': Data Proves Florida Pollution Prevention not Working
Available water sampling data proves – for the first time – that Florida's flagship program to reduce water pollution isn't working. And that pollution is contaminating waterways and sparking toxic algal blooms in the St. Lucie and Caloosahatchee rivers. Learn More
Fixing the Flow: New Plan to Manage Lake Okeechobee
The U.S. Army Corps of Engineers' new plan to manage and distribute vast quantities of water coming into and going out of Lake Okeechobee — reducing flows both east and west unless the lake grows too full, and sending more water south — is a significant improvement over the old plan. Continue Reading
What Lies Beneath? Study Aims to Learn What's in Lake O's Sediment
A study is underway to find out what's below the surface of Lake Okeechobee. Think of our water quality and the lake as a puzzle. There are many different pieces that contribute to the big picture. Understanding all those pieces gets us closer to cleaner water. Watch Now

Florida Should Warn Swimmers when there's Poop in the Water
Currently, the state health department monitors and posts advisories at some coastal beaches and "public swimming areas" under the Healthy Beaches Program, but as the law currently stands, there is no requirement that any state, county or municipal agency warn people before they swim or launch a kayak. Read More
UPDATE: The health of our community has always been Calusa Waterkeeper's top priority. As a result, and out of an abundance of caution due to the increase of COVID-19 infections, we have rescheduled this event
from January 12 to March 2.
All event details remain the same; only the date has changed.
Spend an evening with the Calusa Waterkeeper team. Discuss important water quality issues and initiatives, including Right to Know legislation, with Waterkeeper John Cassani, Executive Director, Trisha Botty, board members and our amazing volunteer Rangers.
Sip on wine and craft beer from Fort Myers' Millennial Brewery while enjoying music by local artist, Nash Williams, and view our new documentary, WATERBORNE.
Your $100 ticket includes a limited-edition commemorative glass and an opportunity to bid on one of a kind artwork by local artists.
If you haven't already done so, purchase your tickets today! Only a limited number remain.
All proceeds will be used to support Calusa Waterkeeper's efforts to fight for drinkable, fishable and swimmable water.
Join us on February 10, 2022 for an
Exclusive Members and Donors Only
Waterside Chat with Calusa Waterkeeper,
John Cassani.
More information to follow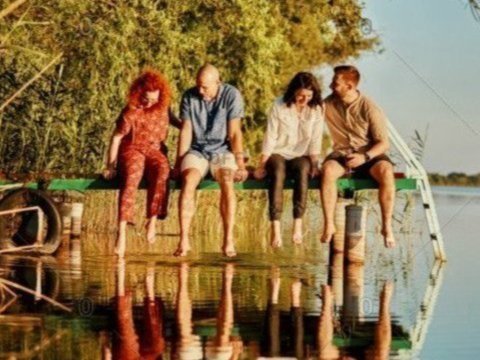 BMAPs were designed to be largely unenforceable. The legislature even removed some of the authority of the SFWMD to monitor for compliance and transferred it to FDEP which is not holding stakeholders accountable. New TMDL / BMAP programs have become rare especially where rampant growth is occurring. Can't have it both ways.
Nitrogen isotope levels in Fort Myers Billy's Creek also implicated sewage but few septic tanks are in the Creek's basin. The other more likely source is leaking sewage conveyance pipes.
Morbid 2021 for manatees ends with record 1,101 deaths. Lee County had second highest mortality rate.
VIDEO: Newborn SMALLTOOTH SAWFISH!
These fish are critically endangered and rarely seen in the wild as adults.
They may look like sharks, but they are more closely related to stingrays. Like sharks, their skeletons are made out of cartilage instead of bone.
When they are born they are about 2 feet long or less, and they can grow to over 16 feet long!
CALUSA WATERKEEPER MISSION
To Protect and Restore the Caloosahatchee River from Lake Okeechobee to the Coastal Waters.
Calusa Waterkeeper
PO Box 1165
Fort Myers, FL 33902