Newsletter | November 2019
Exclusive Calusa Waterkeeper Event:
Calusa Culture Night Saturday, November 23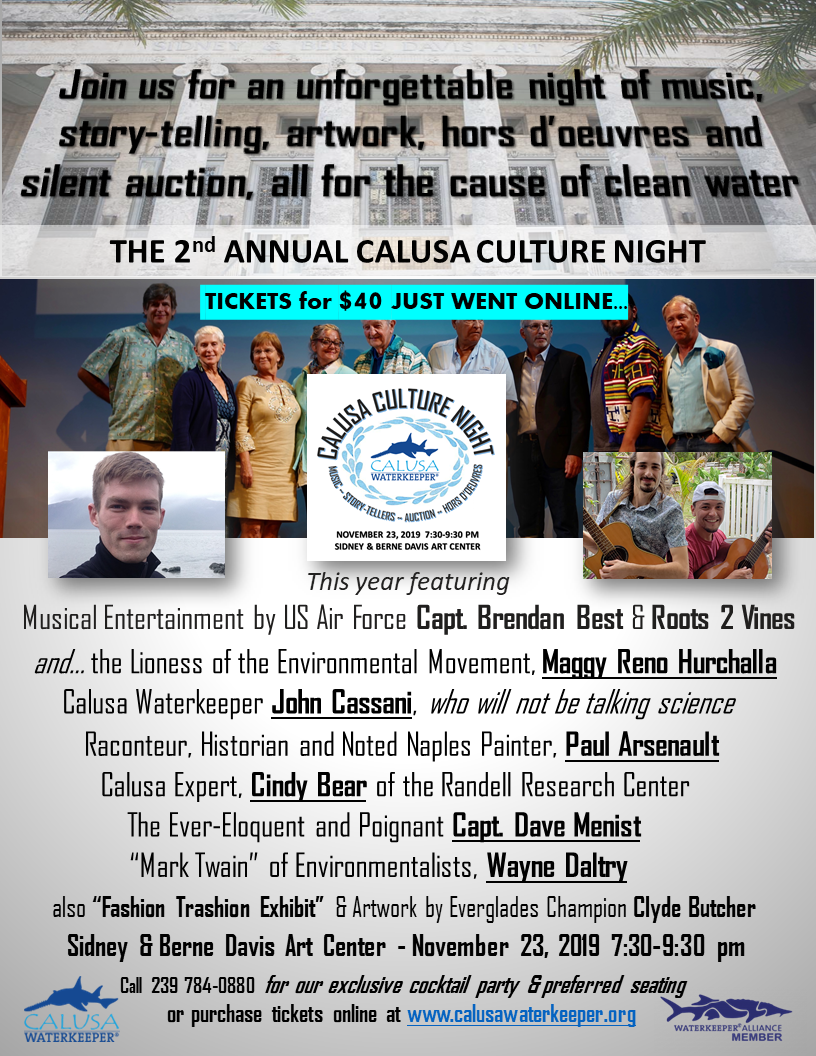 COME CELEBRATE THE CULTURE OF WATER!
Six wonderful story-tellers, music, food & fashion - all in support of clean water.
Come for the entertainment, stay for the great silent auction items, including Boat Cruises by Bay Water Boat Club and Pure Florida, hand crafted dugout canoe model by Seminole Artist Pedro Zepeda, Fossil Hunting trip with John Cassani, private in-home screening of "Wind Across the Everglades" with the producer's son, artwork by Marcus Jansen and Paul Arsenault…. And more. Tickets start at $40.
Meet the New Calusa Waterkeeper Rangers
Congratulations to our latest Ranger Academy Graduates!
Rangers volunteer as citizen monitors of area waterways and are trained to conduct surveys and report conditions and observations of local waters. Volunteers set their own schedules and monitor in project area zones of their choice. View More Photos.
Words from the Waterkeeper
On Episode 9 of Words from the Waterkeeper, John is joined by volunteer ranger and avid angler Don Lees for a Pine Island Sound fishing report. John addresses the red tide reports in Collier County and shares upcoming dates for Troubled Water documentary screenings in Naples. Watch Full Video
Action Alert: Get Informed and Voice your Opinion
SFWMD Governing Board Meeting comes to FGCU in Fort Myers
Public participation is critical to all actions taken by the South Florida Water Management District. Monthly governing board meetings are rarely held in Fort Myers, so we encourage you to attend!
When: Thursday, Nov. 14 at 9:30 am
Where: Florida Gulf Coast University
Cohen Center Ballroom, Second Floor
11090 FGCU Boulevard North
Fort Myers, FL 33965
The CDC wants to know about your exposure to Harmful Algal Blooms

The Center for Disease Control is conducting a study that examines exposure and health effects of aerosols from cyanobacterial blooms on highly exposed populations. If you or a loved one were affected by a toxic algae bloom, please submit your comments to the CDC by November 18!
Save the Date: The Big Calusa 2 - Calusa Palooza
Mark your calendars now for Calusa Palooza - our second annual Big Calusa celebration: Sunday, March 22, 2020 at Centennial Park in Downtown Fort Myers.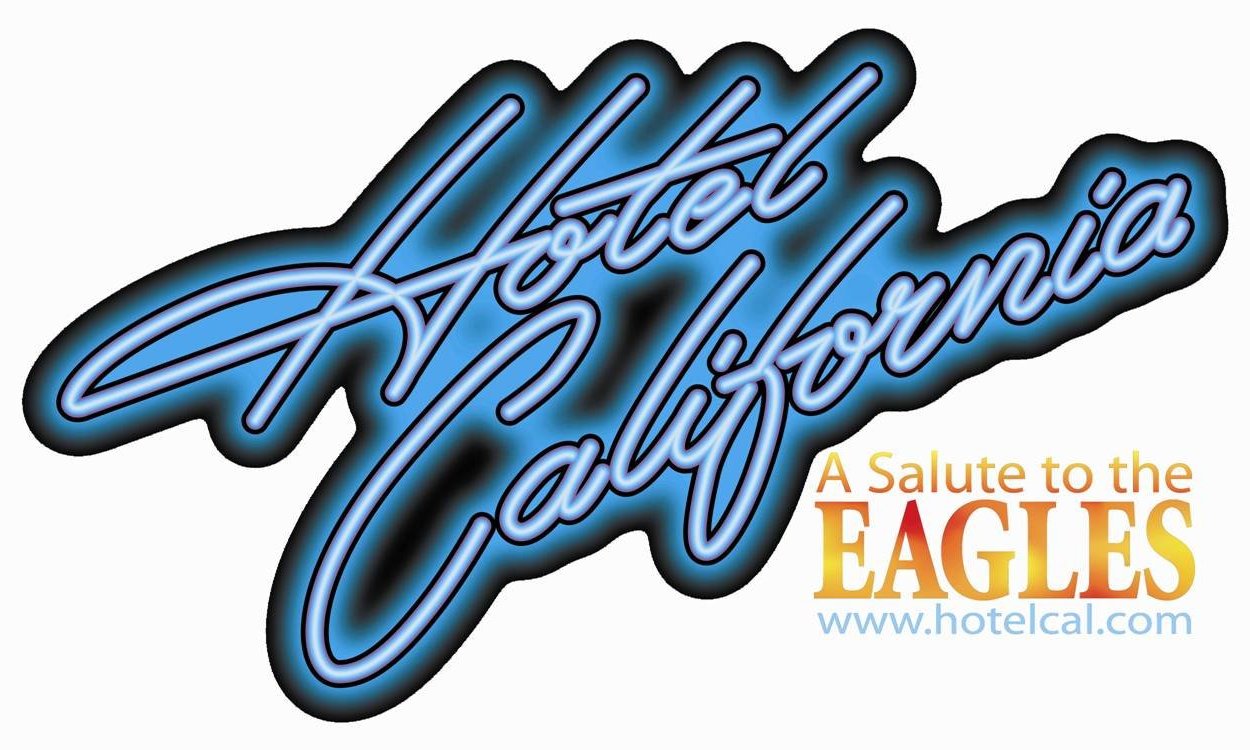 Enjoy a full day of family-friendly activities including kayak and paddleboard races culminating with an evening concert featuring the Eagles tribute band- Hotel California! We are aiming to coordinate the largest week-long cleanup in the history of Southwest Florida, beginning Monday, March 16, 2020. Stay tuned for more details!
The Battle Over Water and Public Health Returns to Florida Lawmakers
Featured Op-Ed by Howard Simon & John Cassani from The News-Press
Enterococci bacteria (fecal indicator) hot spots are shown in red from sampling performed on 10/26. Learn more about our water sampling efforts and fecal indicator bacteria (FIB).
Red tide counts continue to rise along the Florida Gulf Coast with the recent hot spots in both Lee and Collier counties moving northward to Charlotte and Sarasota county. Anyone with acute respiratory issues are advised to avoid beaches and other coastal areas when a karenia brevis bloom (red tide) is detected.
Dead Goliath Grouper Found on the Beach in Naples
Dead marine life continues to wash up on Naples Beaches. A goliath grouper that was likely 8-10 years old, meaning it survived last years red tide devastation, succumbed to this year's bloom. Read More >
Dead Sea Life, Red Drift Algae Piled up on Fort Myers Beach
John Cassani, of Calusa Waterkeeper says red tide continues to cause fish kills along Fort Myers Beach, while the beach is also lined with piles of what appears to be red drift algae. Read More >
An impressive group of women spoke at the Legislative Delegation Meeting in Fort Myers including Louise Kowitch, Holly Schwartz, Kelly McNabb, Solemi Hernandez, Debi Osborne & Jen Hecker.
Dr. Robert Zarranz made a very competent and charismatic CME (Continuing Medical Education) presentation on our behalf for Lee Health. This CME was broadcast to three branch hospitals and also available as a webcast for doctors. Dr. Scott Nygaard, Lee Health CMO & COO neurosurgeon Dr. Douglas Savage were also in attendance.
CALUSA WATERKEEPER MISSION
To Protect and Restore the Caloosahatchee River from Lake Okeechobee to the Coastal Waters.
Calusa Waterkeeper
PO Box 1165
Fort Myers, FL 33902