Calusa Waterkeeper, Inc. is a non-profit organization dedicated to the protection of the Caloosahatchee River & Estuary, Lake Okeechobee, Nicodemus Slough, Charlotte Harbor, Estero Bay, the near-shore waters of Lee County, and their watersheds, through education and promotion of responsible use and enjoyment by all people.
Our History
Calusa Waterkeeper, Inc. began in 1995 as Caloosahatchee River Citizens Association, Inc. (Riverwatch). We were admitted to Waterkeeper Alliance in 2015 as an Affiliate. In December 2016 we achieved full Member status in Waterkeeper Alliance, adopting the new name Calusa Waterkeeper, Inc.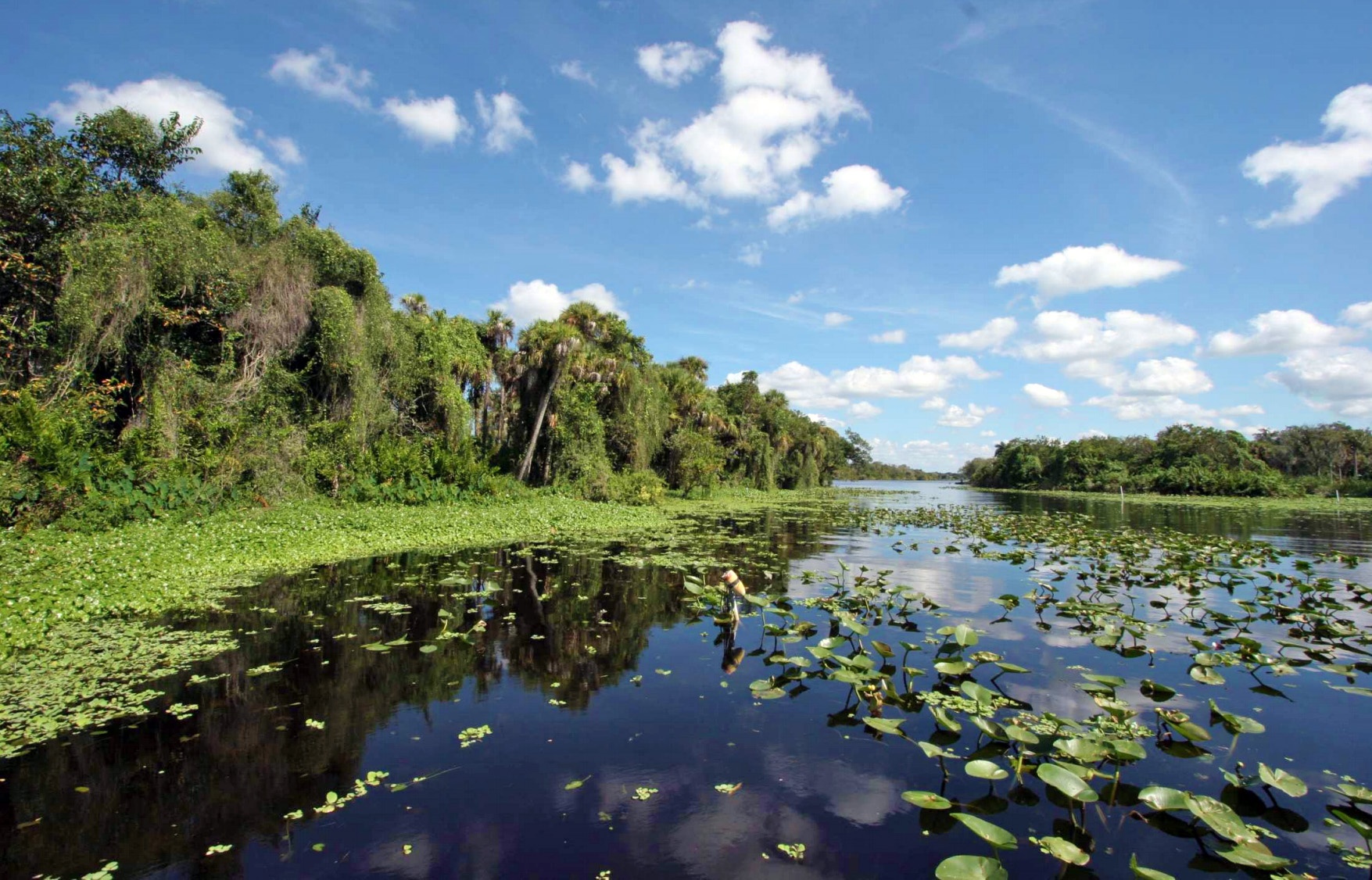 Our Goals and Objectives
To strive to improve the waters of our jurisdiction, including its impacts on riparian and estuarine systems, wildlife habitat, and marine life.
To promote public education concerning the historical significance, present condition, and future of our water bodies and watersheds.
To increase public awareness of the importance of our waters to our quality of life.
To study the effect of domestic, commercial, and agricultural uses of our water resources.
To monitor and work to improve water quality, quantity, and flow characteristics.
To observe and participate in the activities of public bodies responsible for the management of our waters and our watersheds.
Water Quality Monitoring
Calusa Waterkeeper monitors the health of the regional waters – the Caloosahatchee River and Estuary, Estero Bay, Lake Okeechobee, Charlotte Harbor and our beaches. Government agencies fail to monitor adequately and address water quality issues.
Our Waterkeeper works closely with a dedicated group of volunteers (Rangers) in sampling and analyzing our water bodies. We use the data collected to advocate on behalf of our community and inform the public and government officials on water quality issues.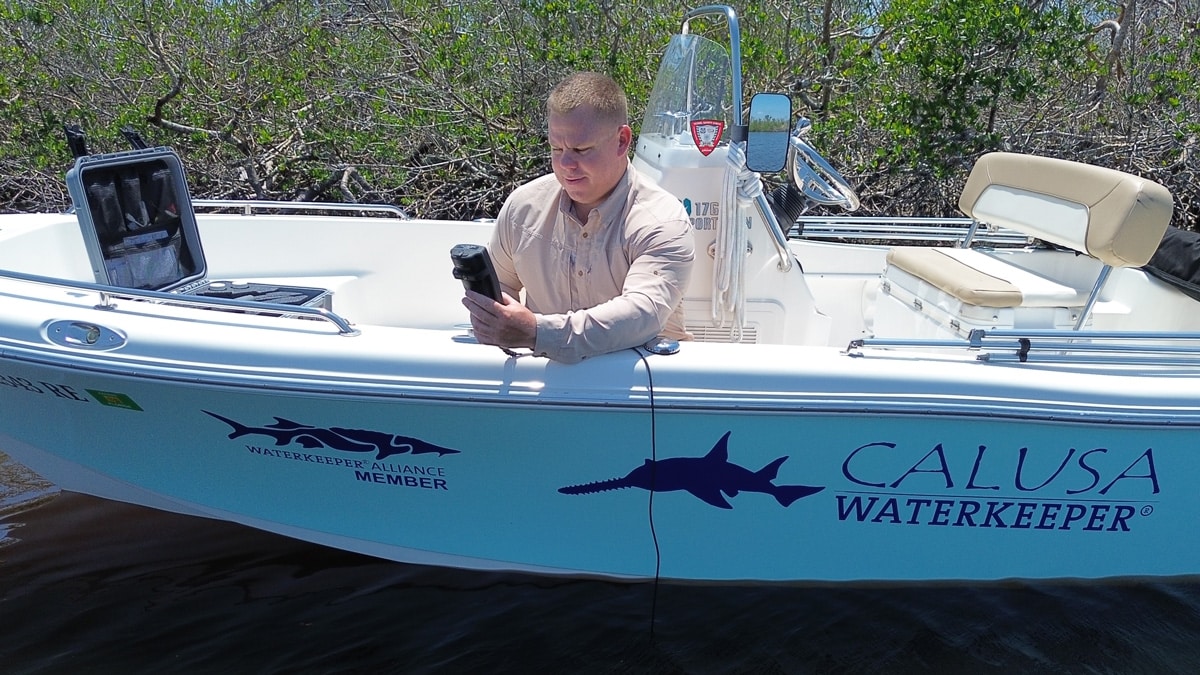 Our Jurisdiction
Each Waterkeeper around the USA and world has an area of jurisdiction, which they patrol and work to protect and improve. The Calusa Waterkeeper jurisdiction includes the Caloosahatchee River and Estuary, Lake Okeechobee, Nicodemus Slough, parts of Charlotte Harbor, Pine Island Sound, Matlacha Pass, Estero Bay, and all the near-shore waters along Lee County.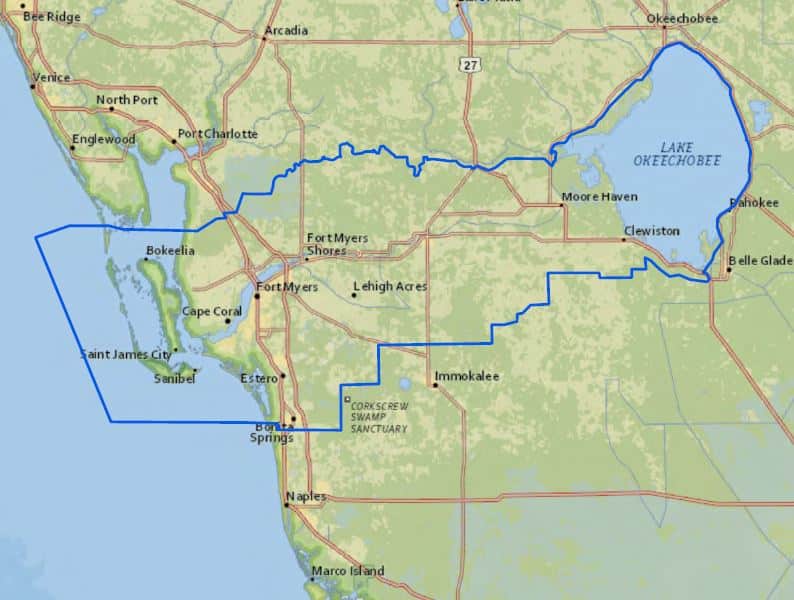 Learn more about the Waterkeeper affiliates in Florida and the global Waterkeeper Alliance:
ABOUT WATERKEEPER ALLLIANCE
What's that logo all about?
The logo and mascot of Calusa Waterkeeper is a silhouette of a smalltooth sawfish (Pristis pectinata). The smalltooth sawfish is a critically endangered ray species found in shallow water tropical and subtropical estuaries. The species has disappeared from much of its historical range, but can still be found relatively regularly in Southwest Florida. Several critical habitat and pupping areas have been identified in the Caloosahatchee River, Charlotte Harbor and Estero Bay. They are often seen or caught at area fishing piers and in the shallow back bays.
Several of our Calusa Waterkeeper rangers have done a fine job of documenting their sightings and raising awareness for conservation of the smalltooth sawfish. Protecting this fish and its habitat is high on our list of priorities. Taking of this species is strictly prohibited by law and all sightings should be reported to FWC and the UF Museum of Florida. 
Calusa Waterkeeper Non-Profit Organization (NPO) Resources: