Calusa Waterkeeper
Give Today
Our Mission Depends on You
We cannot fulfill our mission of protecting and restoring the Caloosahatchee River from Lake Okeechobee to the coastal waters without the generosity of our supporters. Those who give to Calusa Waterkeeper provide the means to continue our science-based water and air monitoring research and advocacy efforts that enable us to fight for drinkable, fishable, and swimmable water in Southwest Florida.
There are many ways you can help support Calusa Waterkeeper: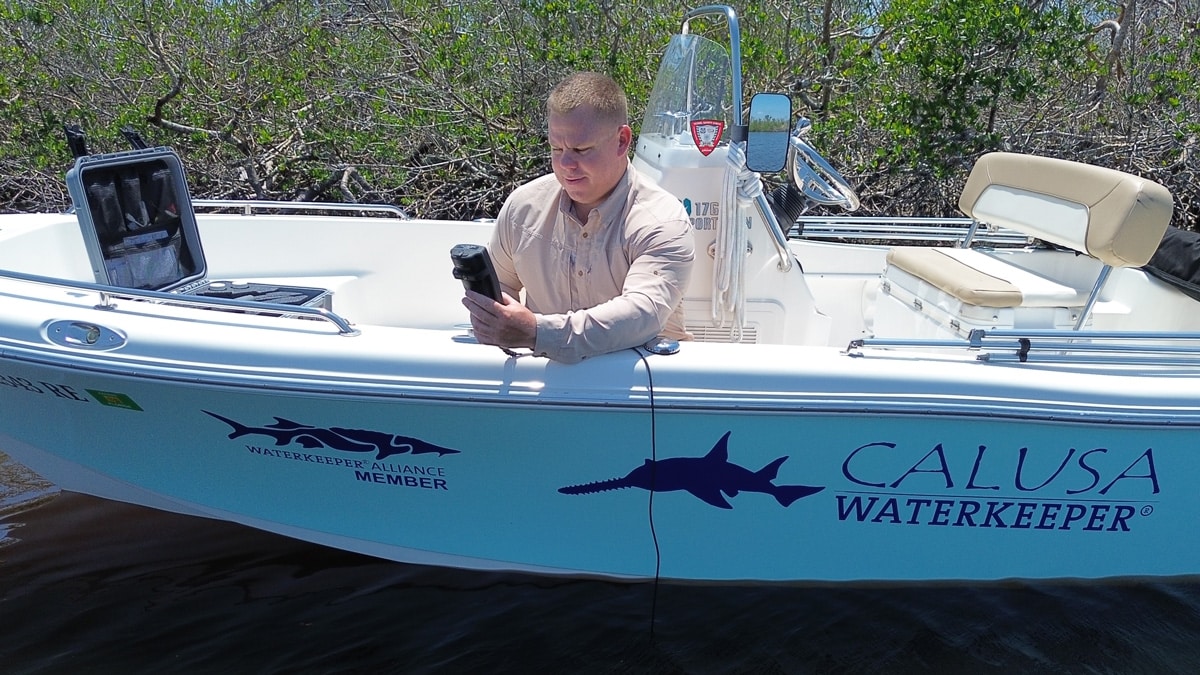 At Calusa Waterkeeper, we believe prioritized testing is critical to getting quick, uncompromised results. Our Rangers volunteer to regularly collect water samples and obtain monthly monitoring data within our work area. Our in-house lab allows us to directly process and quickly obtain values for fecal indicator bacteria from a host of local sites. The results of this regular monitoring are published on our website and social media and used in our advocacy efforts when addressing local stakeholders and state enforcement agencies.
Harmful Algal Blooms (HABs) are of increasing concern, primarily due to their negative effects on human respiratory, gastrointestinal, and neurological health. These airborne toxins can travel four miles or more from a water source. It costs the organization approximately $800 per site to test for two airborne toxins, anatoxin-a and brevetoxin. We need your help to continue this ground-breaking research!
Jim and Ruth Watkins have been instrumental in helping Calusa Waterkeeper lead the fight to restore and protect Southwest Florida waterways and surrounding ecosystems. We invite you to join us in honoring their work by donating to the Jim and Ruth Watkins Transformational Leadership Fund. Your contribution will be an investment into the programs and advocacy efforts fighting for water quality that affects our health and way of life here in Southwest Florida.
Stock Donations
Calusa Waterkeeper has partnered with DonateStock.com to enable our supporters to make stock donations in 10 minutes or less. Our DonateStock page enables you to donate stock from your brokerage directly to our account through a secure portal, making the gifting process fast, safe and easy. When you donate stock, you avoid the tax on the gain while deducting 100% of the value of the contribution. You may earn 2-3x the tax savings vs. donating cash. It's a win-win for you and us.
Donate by Mail
Gifts by check can be made payable to Calusa Waterkeeper and mailed to:
Calusa Waterkeeper
P.O. Box 1165
Fort Myers, FL 33902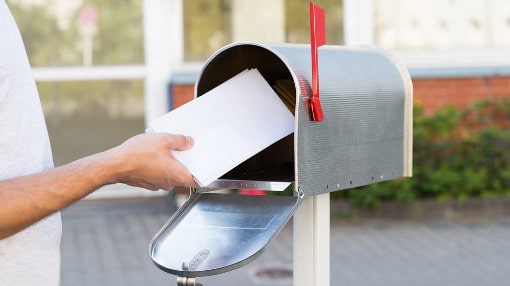 Planned Giving
With gift planning, you can provide long-lasting support for Calusa Waterkeeper while enjoying financial benefits for yourself.
Bequest
You can designate Calusa Waterkeeper as the beneficiary of your assets by will, trust, or beneficiary of your life insurance policy.
A bequest may be made in several ways:
Percentage bequest – make a gift of a percentage of your estate
Specific bequest – make a gift of a specific dollar amount or a specific asset
Residual bequest – make a gift from the balance or residue of your estate
IRA Rollover
Congress has enacted a permanent IRA charitable rollover. As a result, you can make an IRA rollover gift this year and in future years.
Benefits of an IRA Charitable Rollover
Avoid taxes on transfers of up to $100,000 from your IRA to Calusa Waterkeeper
Satisfy your required minimum distribution (RMD) for the year
Reduce your taxable income, even if you do not itemize deductions
Make a gift that is not subject to the deduction limits on charitable gifts
Help further the work and mission of Calusa Waterkeeper
How an IRA charitable rollover gift works:
Contact your IRA plan administrator to make a gift from your IRA to Calusa Waterkeeper
Your IRA funds will be directly transferred to Calusa Waterkeeper to help continue our important work.
Please consult with your tax advisor for this giving advisor.
Beneficiary Designation Gifts
A beneficiary designation gift is a simple and affordable way to make a gift to support Calusa Waterkeeper. You can designate us as a beneficiary of a retirement, investment, bank account, or life insurance policy.
Benefits of a Beneficiary Designation Gift
Support the causes that you care about.
Continue to use your account as long as you need to.
Simplify your planning and avoid expensive legal fees.
Reduce the burden of taxes on your family.
Receive an estate tax charitable deduction.
How a beneficiary designation gift works:
To make your gift, contact the person who helps you with your account or insurance policy, such as your broker, banker, or insurance agent.
Ask them to send you a new beneficiary designation form.
Complete the form, sign it, and mail it back to your broker, banker, or agent.
When you pass away, your account or insurance policy will be paid or transferred to Calusa Waterkeeper, consistent with the beneficiary designation.
Important considerations for your future:
If you are interested in making a gift but are also concerned about your future needs, remember that beneficiary designation gifts are among the most flexible of all charitable gifts. Even after completing the beneficiary designation form, you can take distributions or withdrawals from your retirement, investment, or bank account and continue using your account. You can also change your mind anytime in the future for any reason, including if you have a loved one who needs your financial help.
Life Estate Reserved
You may desire to leave your home or other property to Calusa Waterkeeper upon your death but would also like to receive a current charitable income tax deduction. A life estate reserve might offer the solution you need!
Benefits of a Life Estate Reserved
Receive a federal income tax deduction for the value of the remainder interest in your home or other property.
Preserve your lifetime use and control of your home or other property.
Create a life estate based on more than one life. This will preserve the use of the property for you and a loved one, such as a spouse or dependent child.
How a life estate works:
You deed your home or other property to Calusa Waterkeeper. The deed will include a provision that gives you the right to use your home or other property for the rest of your life and that of any other life estate party named in the deed.
You and Calusa Waterkeeper sign a maintenance, insurance, and taxes (MIT) agreement to explain that you will do your best to keep the property in good condition and that you will maintain property insurance and pay the property taxes.
When the owners of the life estate have passed away, your home or other property will belong to Calusa Waterkeeper. We will use or sell the property to further our charitable work.
Contact Julie Althaver by email or phone  at 239-899-1440 to discuss ways you can support the vital work of Calusa Waterkeeper.