Calusa Palooza and Concert for Clean Water Postponed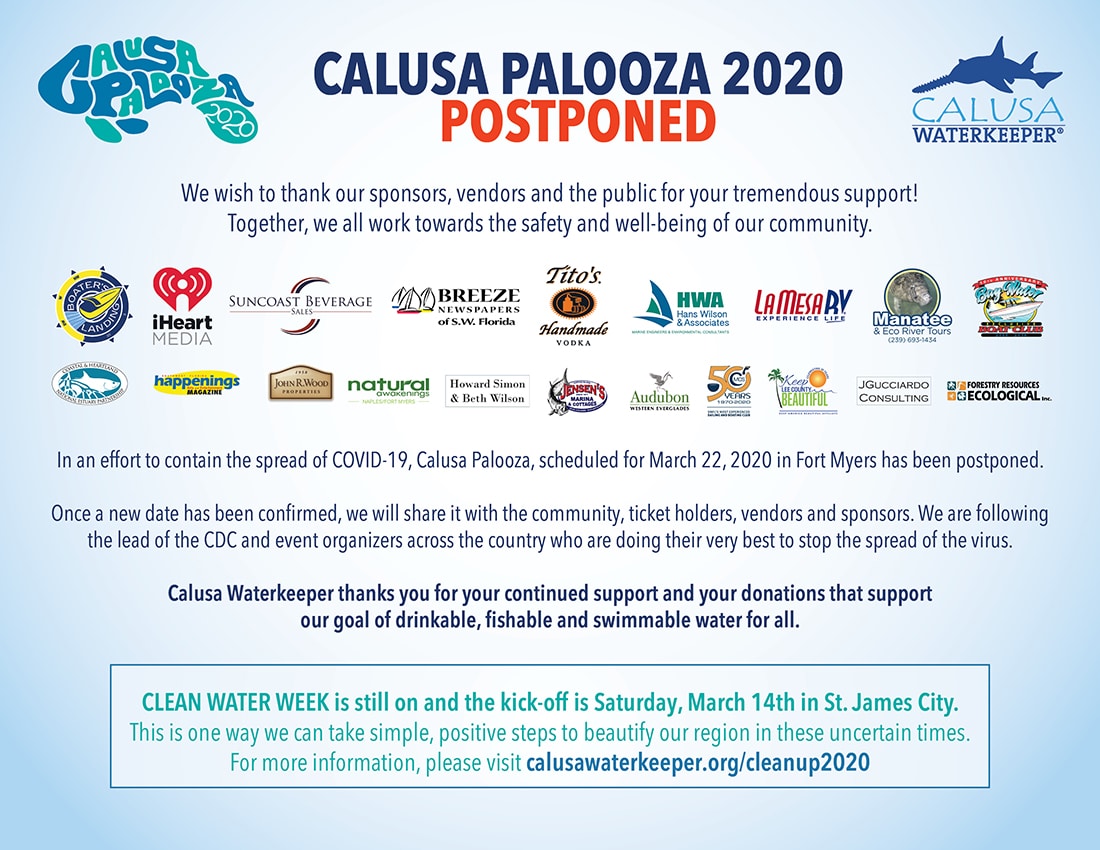 Dear Friends –
As the Executive Director of Calusa Waterkeeper, I am making a personal appeal to you in these challenging times.
Calusa Palooza, originally scheduled for March 22, was intended as a good time gathering of volunteers, vendors, sponsors and the general public, anchored by some great Eagles music.
It was also intended to bring awareness to an issue we face all year long – the critical role CLEAN WATER plays in our livelihood and enjoyment of Southwest Florida.
Our fight for CLEAN WATER is not going away. But local budgets, straining to keep up with a demand to address COVID-19, may mean there is LESS, not MORE money to look after our all-important resource – CLEAN WATER.
If you bought VIP TICKETS to our concert, in lieu of a refund, please consider reserving your VIP spot for the Fall AND we will throw in a free Calusa Waterkeeper Membership (value $40).
If you bought GENERAL ADMISSION tickets, in lieu of a refund, please consider reserving your seat for the Fall. Your purchase helps support our ongoing programs throughout the year.
If you are a SPONSOR, consider becoming a year-long sponsor with Calusa Waterkeeper (with a plethora of rewards & exposure) AND reserving your exclusive sponsorship spot for the rescheduled fall CALUSA PALOOZA.
If you are a VENDOR, please consider keeping your reservation and holding your exclusive spot for our re-scheduled event while also supporting our ongoing programs throughout the year.
We are a great and resilient community. We will band together to overcome not only the Corona Virus but also reclaim our right to beautiful, clean, healthy waterways for our grandchildren.
Help us help you make that a reality.
Kind regards & stay safe,
K.C. Schulberg
Executive Director
Calusa Waterkeeper
You may
email us
with any concerns or to discuss your situation regarding this event postponement.