Pierce comes aboard after the recent retirement of John Cassani
The Calusa Waterkeeper (CWK) board of directors is excited to announce the selection of Captain Codty Pierce as the next Calusa Waterkeeper.
Codty is a native of Lee County and lifelong outdoorsman, growing up fishing our area waters and spending many years observing the hydrology and environments of Pine Island Sound, Charlotte Harbor and Estero Bay. Codty turned his passion for the environment into a profession, founding his own successful fishing guide and charter business in 2016 and has been featured on television and at tradeshows, including appearing in multiple episodes of Flats Class TV. He also has spent time in his career performing wetlands restoration and native landscaping services.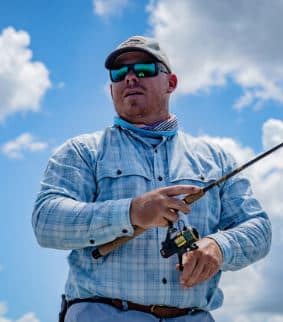 "I am grateful for this opportunity to share my knowledge and passion for Southwest Florida's environment and history. It's exciting to be able to give back to this place I love, and to be working to improve our environment, educate the public and strive for better environmental standards for our rich and biodiverse coastal community," states Codty.
Codty joins a Calusa Waterkeeper team that now includes Robin Serne (Director of Engagement), Julie Althaver (Fundraising & Donor Relations) and Administrative Coordinator Cindy Swisher along with a dedicated group of volunteer board members and Rangers, and a membership of over 400 active supporters.
As the Calusa Waterkeeper, Codty will be the organization's lead advocate and voice for the waterways it is the non-profit's mission to protect. His employment with the organization will officially begin on March 1, 2023. "We are all thrilled to have Codty joining our team. His passion for our mission is obvious when you listen to him. The energy he brings to our organization at this time is a crucial element in our continued progress," says CWK Board President Jim Watkins. John Cassani, who served as the first Calusa Waterkeeper for over six years and retired at the beginning of 2023, has known Codty for a number of years now and also looks forward to this next chapter. "Codty's deep roots in the community, his long experience and knowledge about southwest Florida waters make him an excellent choice as a Waterkeeper," adds John.
The organization will be hosting an event on April 2, 2023, which will include an opportunity to meet Codty, recognize John's service as the Calusa Waterkeeper and support the mission to protect and restore the Caloosahatchee River from Lake Okeechobee to the Coastal Waters. You can learn more about this event and buy tickets at calusawaterkeeper.org/ourwater