CWK Ranger Profile – Terry Nelson
Professional and Personal Background
I am a History Major, frequent traveler, and attorney specializing in Civil Trial work, with an early interest in Environmental cases. I started practicing law in Miami, where I worked on the 1988 Federal Lawsuit against the State of Florida for dumping Lake Okeechobee water into a Black Water Sound, in the Keys. I moved with my family to Lee County in 1990. I coached both my boys in soccer and baseball into High School, showed them as much nature as I could, and I continue to have a busy practice in my own law firm.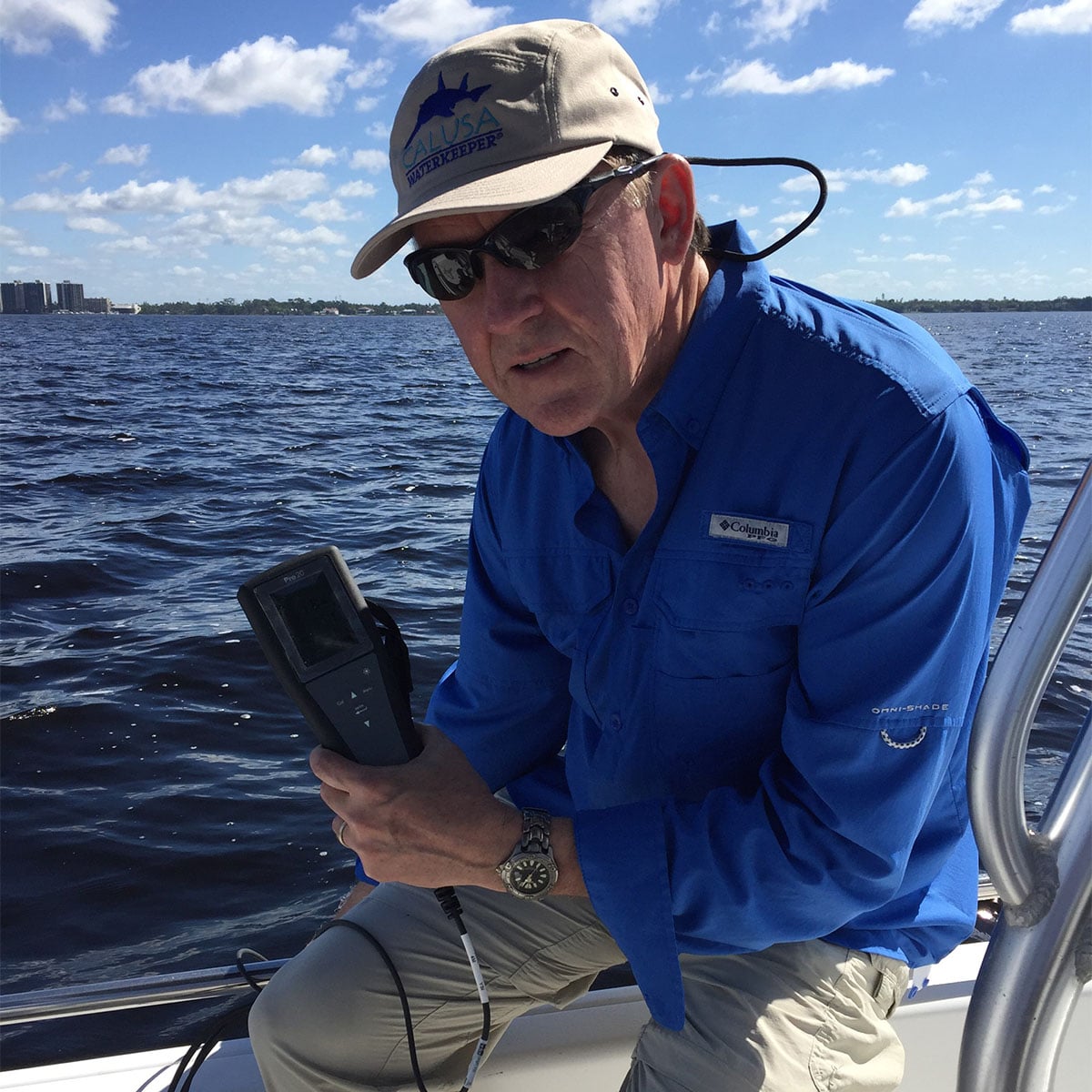 Tidal Caloosahatchee Group
What motivated you to become a Ranger?
I always wanted to live on the water. I fished and sailed from an early age, and learned to scuba dive in the early 1980s. I've dived some of the best waters in the world. We were fortunate enough to find a beautiful lot on the Caloosahatchee River across from my work in downtown Ft Myers, where we built our home. When not coaching or working, we "lived on the water". We boated, fished, sailed, kayaked, and played on the beaches. As I watched the water we loved degrade over the years, I wanted to do something about it. Calusa Waterkeeper was the best fit for me. We have great leadership, and being able to learn more about water quality and advocacy as a Ranger was a great way to do it. The variety of areas we can get involved in from lawsuits to neighborhood education keeps it interesting and rewarding.
What do you like doing most as a Ranger?
While meetings and advocacy are necessary, I most like being on the water, and doing the actual water quality testing while out on the creeks and river in our kayaks or boat. My wife and I always say we see at least one extraordinary event almost every time we are out on the water, and it's true.
Why did you choose southwest Florida as home and if not a native, when did you arrive?
Growing up in freezing Minnesota I always wanted warm weather and warm water. After moving to Florida, in 1979 it became apparent that living on the water was cost-prohibitive on the east coast, and I took the first opportunity to move here where building lots on the water were still available and reasonable. I also was happy to get away from the traffic and density of Miami. With less population, I assumed the water quality on this coast would exceed the east coast, but on that issue I was wrong.
What is your favorite waterway and why?
Despite its problems, the Caloosahatchee remains my favorite waterway. It literally is "my backyard ". I love waking up to the beautiful sunrises every morning. Watching the thousands of Bluebill ducks (Lesser Scaups) "raft together " and fly in great big circles when a boat gets too near. Fishing, kayaking and simple pleasure boating are favorite activities. We love to watch the Eagles, and Ospreys, at work – sometimes fighting over the same fish. Watching storms roll across the waves is a favorite summertime event. The view of the River is like an ever-changing giant painting that we never get tired of.
Why is protecting the water important to you?
Water is one of our great joys, but the real reason for protecting it is that it represents the health of our world. The future. Water is life. Water is the blood of the planet. If we let our rivers die, the oceans and most life won't be far behind. Our grandchildren deserve a beautiful world too. It is almost incomprehensible to me that greed has blinded so many to the reality of what is happening to our waterways and its consequences. If I don't do anything, to protect it, I feel I don't deserve to enjoy it.