Calusa Waterkeeper Ranger, Sue Dahod lends her time and educational background to keep an eye on water conditions throughout Matlacha Pass from both Pine Island and the shores of Matlacha. Calusa Waterkeeper brings you these updates from her observations. We encourage you to share this post with friends and residents, on social media and through email, who may live along or recreate through Matlacha Pass. These water quality updates are ongoing, so check back frequently and
follow us on Facebook
to stay up to date with the latest information as it becomes available.
As conditions degrade and warrant additional attention, Calusa Waterkeeper aims to test both the water and air around these areas as funding allows. Please consider making a tax deductible donation or becoming a member of Calusa Waterkeeper to ensure our efforts of testing and reporting on potentially harmful conditions can continue uninterrupted.
On the afternoon of Tuesday, May 10th, Sue Dahod visited several points along Matlacha Pass to observe water conditions. Following is a map of the locations she visited and a summary of her observations with photos.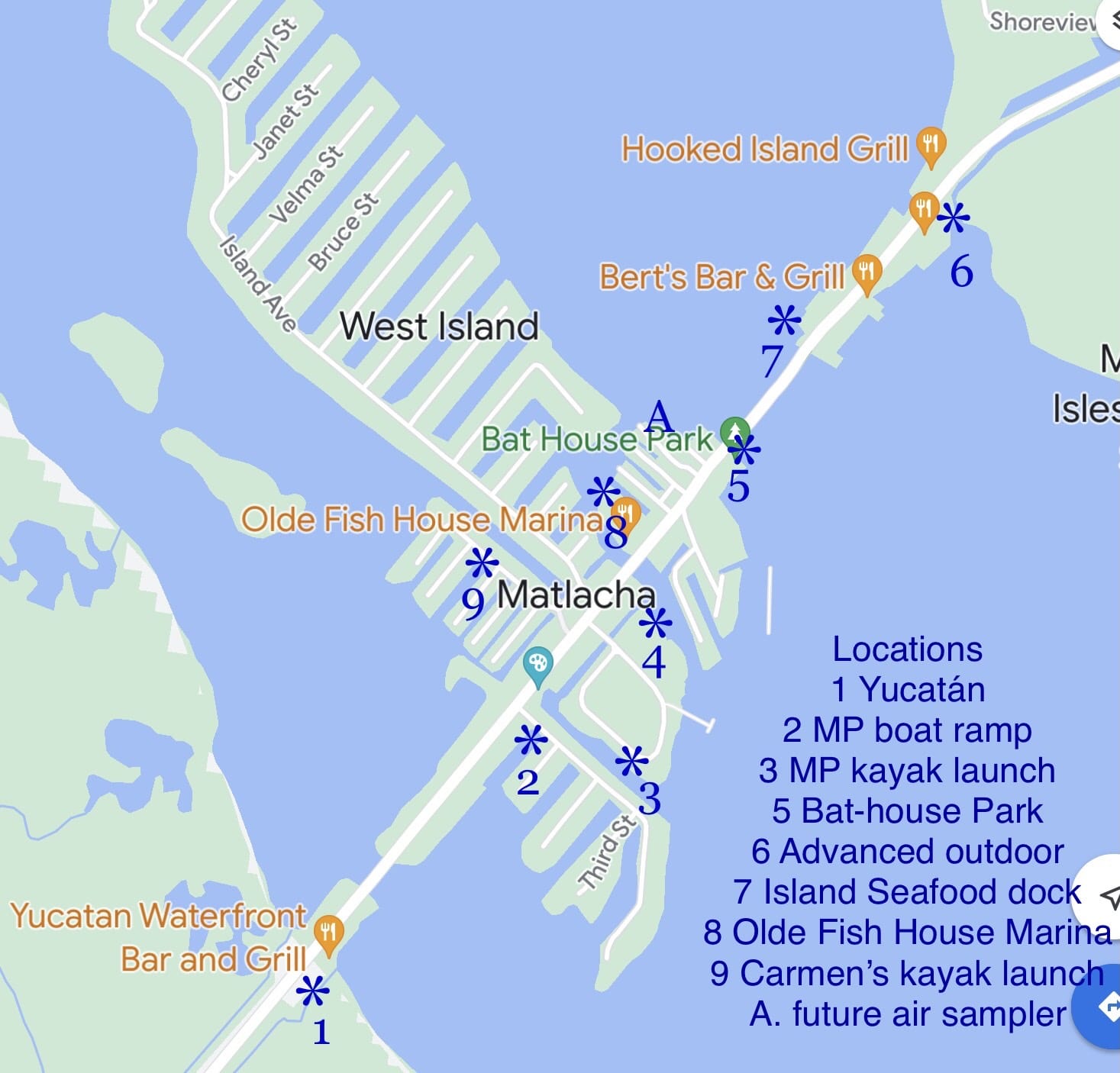 An algae mat is beginning to show in most locations. The worst of it was observed at Olde Fish House Marina. As of May 10th, no severe decomposition, fish kills or smell was observed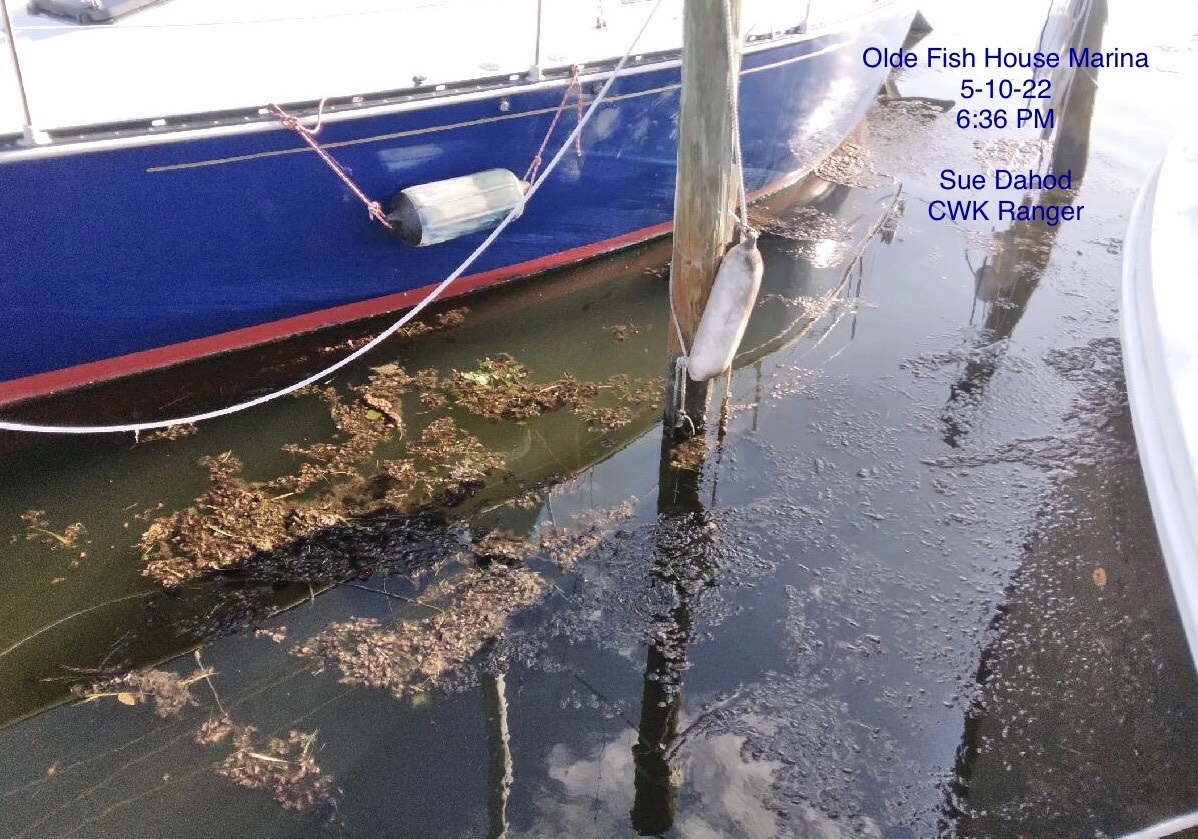 Location: Olde Fish House Marina dock
Observation: Fairly calm, E wind. Large brownish Caulerpa/Dapis-like surface mats around boats. Mixed with pieces of green sea grass. Not too thick. Not actively decaying. No dead fish. No smell.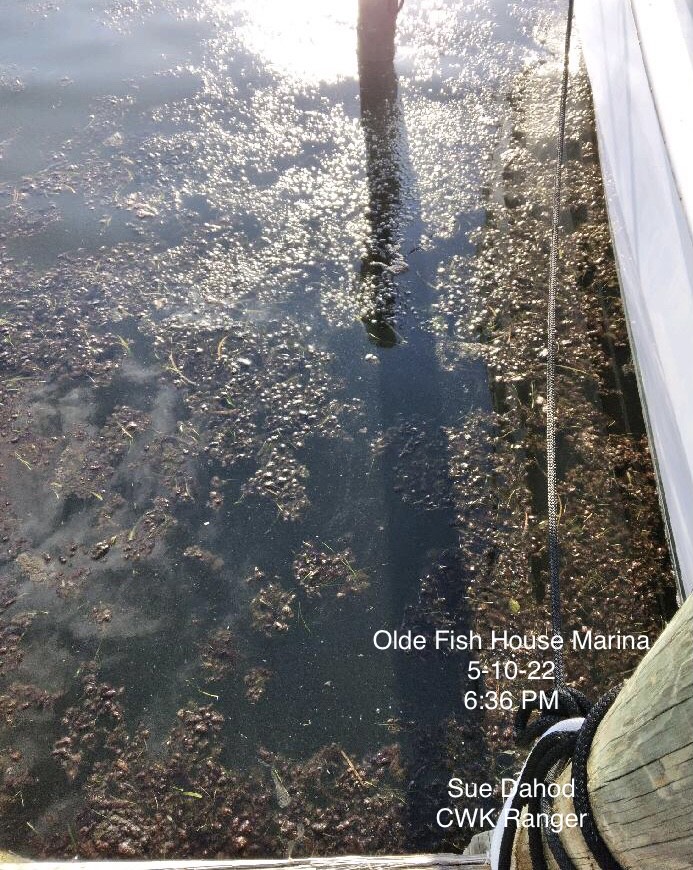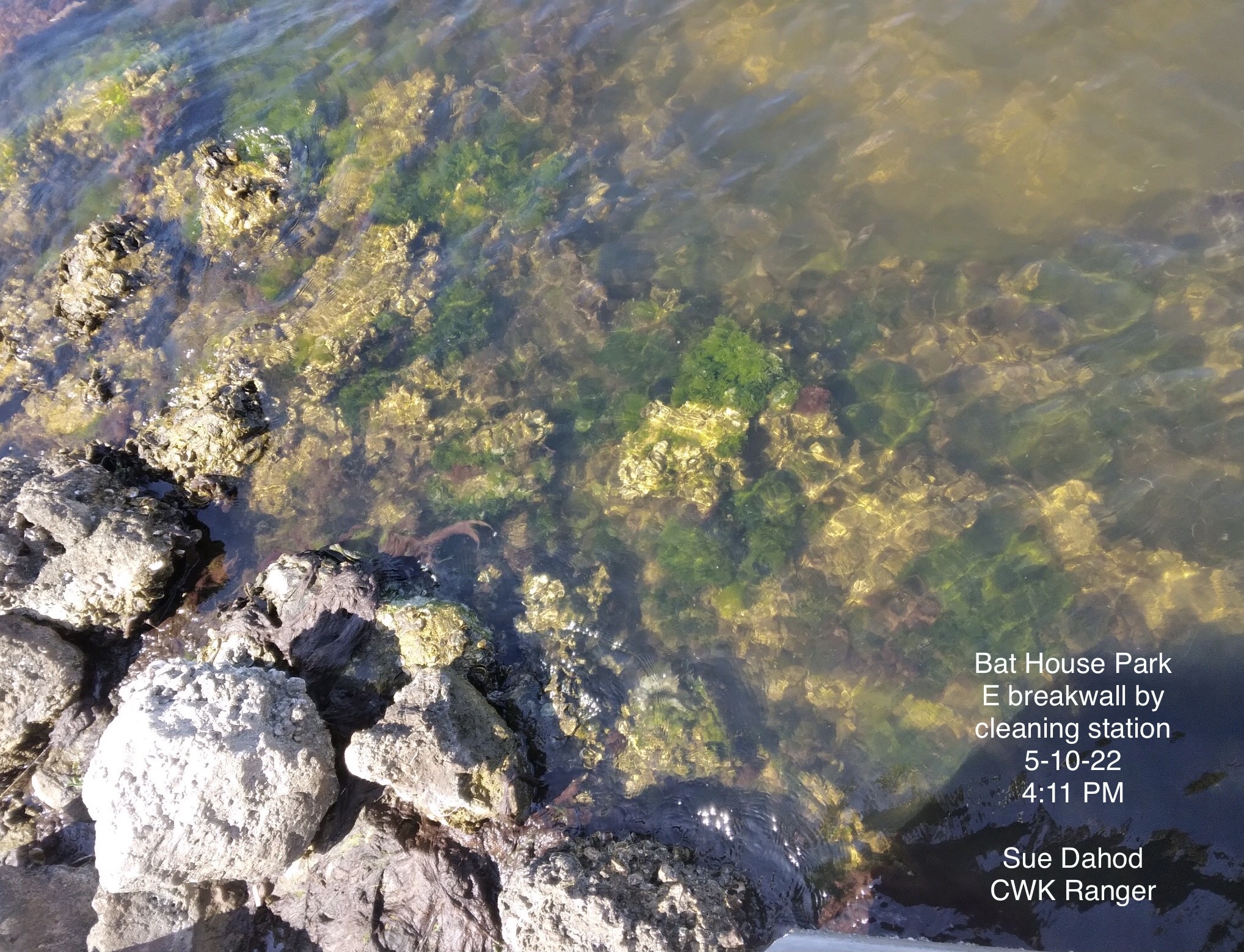 Location: Bat House Park and Cleaning Station
Observation: Many clumps of raggedy brown filamenous Caulerpa-like algae on S and E break wall. 4" to 3-1/2-foot Pieces of sea grass floating with clumps on E side. Many bright green clumps of Caulerpa-like algae growing on rocks N of cleaning station. Slight breeze, ripples, No smell, No dead fish. Multiple fishermen.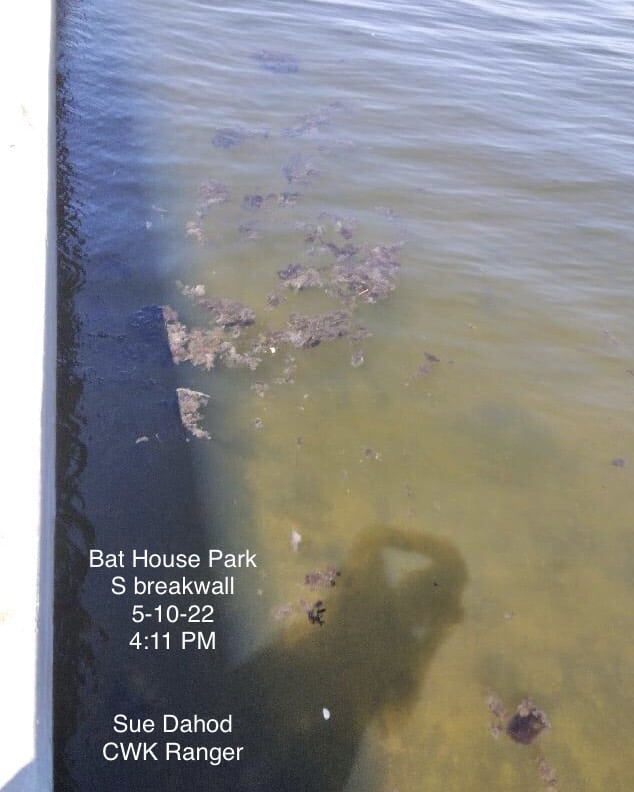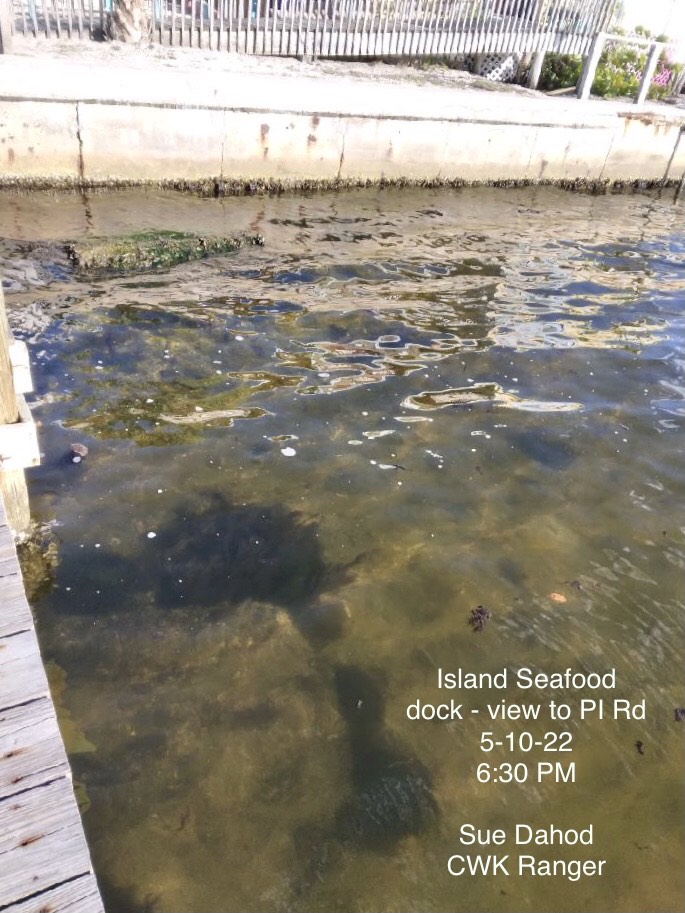 Location: Island Seafood dock
Observation: Breezy, water fairly clear. Clumps of brown Caulerpa-like algae floating on surface 1-3 ft large, up to 1 ft deep. Collecting on dangling lines. Some bright green Caulerpa-like alga growing on rocks. No dead fish. No smell.
Location:
Yucatán
Observation:
Murky, onshore flow. some Caulerpa-like 1-1/2-foot long tendrils floating sub surface. Slight breeze, mostly calm. No gasping fish. No smell.
Location: Matlacha Ave N canal
Observation: Murky, calm. No surface algae, No smell
Location: Matlacha Park Boat Ramp S
Observation: Clear; can see bottom, calm. Several 1-1/2-foot filamentous clumps of Caulerpa-like algae floating at surface. Needlefish & pelican in canal, reddish brown egret at ramp. No smell.
Location: Matlacha Kayak Launch, beach
Observation: Fairly clear. Breeze E to W. Ripples. Multiple brown clumps of Caulerpa-like algae 1-1/2 to 3-foot x 1/2 to 1-foot deep. Floating at the surface. Green Caulerpa-like clump growth on bottom. No gasping fish. No smell.
Location: Advanced Outdoor
Observation: Calm, looks murky. Can see occasional small fish jumping. Masses of filamentous Caulerpa-like algae clumps, 3-5 ft under dock by the shore. Can see a few small 6" clumps out in the water. Not easy to gain access to with 20-feet of water. No dead fish. No smell.
Location: Carmen's kayak launch on May Street
Observation: Calm. A few minnows. No mat algae, No smell.